Frequently Asked Questions
Here are some answers to some commonly asked customer service questions. If you can not find the answer you are looking for, please feel free to contact us at [email protected]
I just bought something from your site. How long will it take to arrive?
Our goal is to ship the same day all orders received by 1:00 p.m. (MT) on business Days. All other orders ship within 24 hours. Keep in mind that weekends and holidays are not considered business days by Kinky Adult Fun, and/or our shipping partners.
Shipping Method                             Timeframe
USPS Retail Ground                        2-8 Business Days
USPS Priority Mail                           1-3 Business Days
USPS Priority Mail Express            Overnight
How do you ship?
We ship via USPS. We provide shipping confirmation and tracking number via email within 48 hours of receipt of order. The cost of shipping is calculated when you check out, it is based on your zip code.
How will my order look when it arrives and what will show up on my credit card?
Discretion is important to us. Your Package will come in either a plain white bubble envelope or a plain brown box. The shipping label will read "ETC, Shipping Department", which is our affiliate company. Below is a sample label of an order ready to be shipped.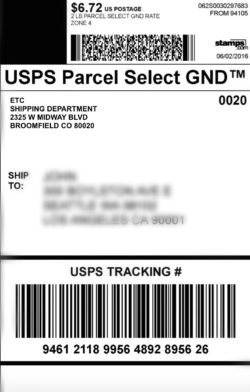 What is your return policy?
For hygienic reasons, Kinky Adult Fun is unable to return or exchange products unless defective.
– In the event there is a shipment error on the part of Kinky Adult Fun or its affiliate, a credit memo will be issued or the correct product will be shipped at Kinky Adult Fun's expense. If we request the product to be returned, you shall return the product to address we provide; We will issue a call tag at that time. Credit will be issued for the product, and shipping charges, if applicable.
What if an item is defective?
All defective items must be returned within 30 days of receipt for a credit, exchange, or replacement with prior approval. Please Email us at [email protected] if you need approval to return a defective item.
Kinky Adult Fun will issue a credit or replace a manufacturer's defective or damaged item, within the first 30 days
from date of delivery to you. The item will be replaced with the same item ONLY. We will advise you what to do with the defective or damaged item. Replacement is issued for defective item(s) only, and shipped to you at no cost.
All returns require prior authorization. **Note that refunds will not be given without prior authorization. Please do not mail in your product without this authorization. No credit will be issued for product or processing fees.
What if an item is damaged by carrier?
If items are damaged in shipment, or have evidence of damage to the exterior shipping box, you are required and must request information from the carrier on the procedure for filing a claim at time of delivery. The carrier shall provide information to you on how to file a claim with Kinky Adult Fun, to be reimbursed for damages through
the carrier.
Can I cancel my order?
In most instances, your order is processed and shipped the same day. Therefore, Unfortunately there is no way to cancel an order once it has been submitted. Please order carefully.
I have a coupon code, where do I enter it?
Your coupon code can be entered in shopping cart before completing the checkout. Once entered you will see the discount for the Kinky Adult Fun coupon code automatically applied to the total.
Do you ship to Hawaii, Alaska, PO Boxes or APOs?
We ship to Hawaii and Alaska but are not able to offer any Free Shipping Promotions. Rates are shown on checkout. USPS does ship to PO Boxes and APO's.
How do I unsubscribe to the Kinky Adult Fun newsletter?
You can unsubscribe from our newsletter at any time by clicking the unsubscribe link at the bottom of the newsletter or by emailing us at [email protected].
How do I reset my password?
You can reset your password by clicking on Login/Register at the top of the home page. Type in the email used to register your account and then click on reset password. The new password will be emailed to you.
How do backordered items work?
Our system will not keep backorders. Any items that are not available will be removed from your order. The order will be billed accordingly.
Does Kinky Adult Fun have a store I can visit?
No. We are an e-commerce business only. All items are shipped directly from our affiliates warehouse.
Can I place my order over the phone?
No, All orders must be placed online.
How can I place an order?
Once you've found the product you want to purchase, click the add to shopping cart button. Once you are done choosing the items, click the proceed to checkout button to fill in the information required. Choose your desired shipping and payment option. Once the order has been placed, you will receive a confirmation via email.
What payment methods do you accept?
Right now we are only offering PayPal services to process Visa, MasterCard, American Express and of course PayPal. *You do not need a PayPal account to pay with your credit card. Just follow the instructions on the Checkout page.
How can I contact you?
Please fill out Contact Us Form and you will be contacted by email within 24 hours excluding Weekends & Holidays.